Ultimate Sound and Control for the Win!
The Turtle Beach® Recon™ Controller for Xbox Series X|S & Xbox One is the first controller to pair game-changing audio innovations with game-winning controls. Plug in a 3.5mm headset and take advantage of proven Turtle Beach audio features like Superhuman Hearing®, Mic Monitoring, Signature Audio Presets and more. Win more with Pro-Aim™ Focus Mode, which tunes thumbstick sensitivity for enhanced long-range accuracy, and save up to four selectable profiles on each of the two, rear quick-action buttons. Play for hours in comfort thanks to ergonomic cooling grips and feel every vital gaming detail with next-gen vibration feedback in the handles and triggers.
FOR EVEN MORE GREAT CHRISTMAS GIFT IDEAS THIS HOLIDAY, BE SURE TO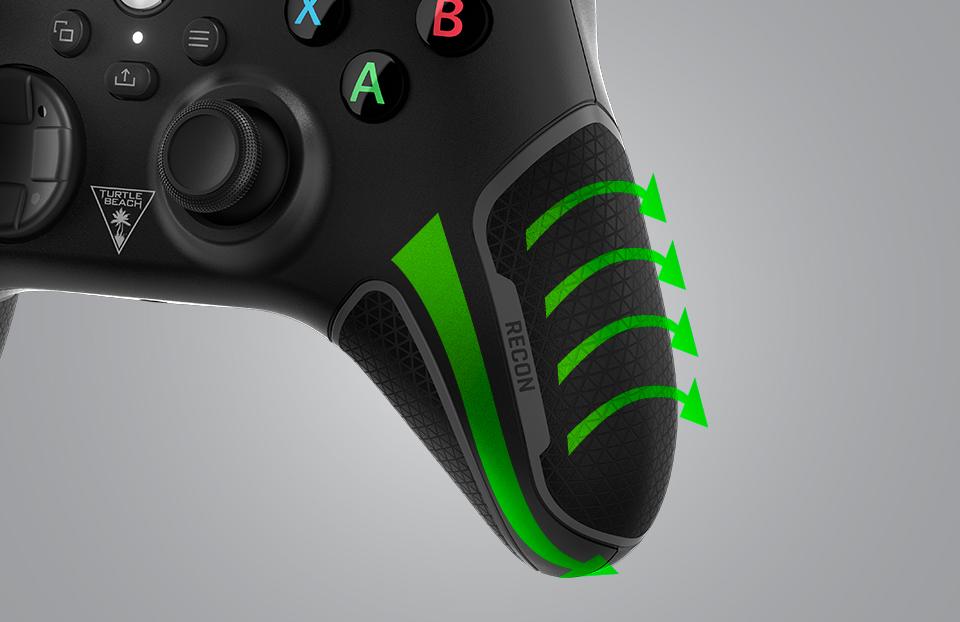 TURTLE BEACH AUDIO ADVANTAGE
Easy access audio controls only available from Turtle Beach including EQ presets, game & chat volume mix, mic monitoring and more.
TWO MAPPABLE QUICK-ACTION BUTTONS
Customize your gaming experience with two mappable buttons, allowing up to 4 different switchable profiles.
FOUR TURTLE BEACH SIGNATURE PRESETS
Customize your game audio with four EQ presets: Signature Sound (Default) Bass Boost, Bass & Treble Boost and Vocal Boost.
VIBRATION FEEDBACK
Dual rumble motors in the handles and triggers enhance immersion for ultra-realistic next-gen gameplay.
3.5MM HEADSET CONNECTION
Take advantage of proven Turtle Beach audio enhancements by plugging in any 3.5mm connected headset.
MIC MONITORING
Hear and adjust the volume of your own voice to avoid shouting while you chat for clear communications.
RESPONSIVE CONTROLS
Play in confidence with textured triggers and bumpers, an accurate 8-way D-pad, and smooth thumbstick movement.
DESIGNED FOR XBOX
Built to dominate on Xbox Series X|S, Xbox One plus Windows 10.
WIRED TO WIN
Equipped with a detachable 10ft./3m braided cable with USB-C connector.
❄❄❄ MORE FROM THIS YEAR'S SHOPPING GUIDE! ❄❄❄
Click here for the best 2021 has to offer in gaming, gear, toys and tech...