"I'm Not Evil Again. Why Does Everyone Think That?" - Angel
Immortal vampire frenemies Angel and Spike return in this all-new, SDCC-exclusive Vinimates box set, featuring the two in their fully vamped-out forms.
Each 4-inch vinyl figure features an articulated neck, and is based on the iconic Minimates mini-figure body type.
Packaged in a full-color window box. Designed by Barry Bradfield. Limited to only 250 pieces. A Diamond Select Toys release!
FOR EVEN MORE GREAT CHRISTMAS GIFT IDEAS THIS HOLIDAY, BE SURE TO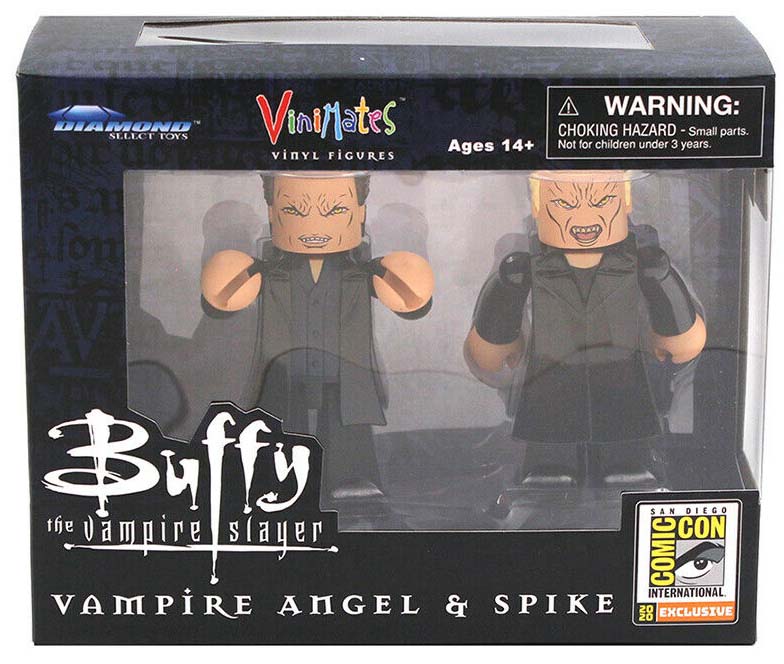 About the Buffy the Vampire Slayer series (from Buffyverse | Fandom):
Buffy the Vampire Slayer is in serialized format, with each episode involving a self-contained story while contributing to a larger storyline, broken down into season-long narratives marked by the rise and defeat of a powerful antagonist, commonly referred to as the Big Bad. While the show is mainly a drama with frequent comic relief, most episodes are a blend of different genres, including horror, martial arts, romance, melodrama, farce, science fiction, comedy, and even, in one episode, musical comedy.
The series' narrative revolves around Buffy and her friends, the Scooby Gang, who struggle to balance the fight against supernatural evils with their complex social lives in the fictional city of Sunnydale. The show mixes complex, season-long storylines with a villain-of-the-week format; a typical episode contains one or more villains, or supernatural phenomena, that are thwarted or defeated by the end of the episode. Though elements and relationships are explored and ongoing subplots are included, the show focuses primarily on Buffy and her role as an archetypal heroine of the Slayer.
As the title suggests, the most prominent monsters in the Buffy bestiary are vampires, which are based on traditional myths, lore, and literary conventions. Although, as the series continues, Buffy and her companions face an increasing variety of demons and supernatural creatures, as well as unscrupulous humans. They frequently save the world from annihilation by a combination of physical combat, magic, and detective-style investigation, and are guided by an extensive collection of ancient and mystical reference books.
❄❄❄ MORE FROM THIS YEAR'S SHOPPING GUIDE! ❄❄❄
Click here for the best 2021 has to offer in gaming, gear, toys and tech...