Design, comfort, functionality and quality...Vertagear has it all.
The Vertagear Series of gaming chairs are designed for comfort and equipped with superior ergonomic features. The industrial-strength, extra padded gaming chair provides greater support and durability for your entire frame and head. The Plus Line (PL) is the perfect fit for users desiring more space. Assembled with a wide range of adjustability that enhances gamers' personal comfort, relax for an extended period during your intense gaming sessions.
Their patented "Slide-in" hardware allows for a quick and easy one-person assembly. The chair can be assembled in seconds by simply sliding the backrest into the seat. Removing any alignment and hardware complexities for a hassle-free, one-person process. Their Ultra Premium High Resilience Foam boasts a density well above industry standard. While standard High Resilience foam stands up to approximately 2.5lbs per cubic foot, their UPHR foam can withstand 62% more per cubic foot. The foam prolongs the lifespan of the chair by preventing deformities from long periods of use, inching it closest to the characteristics of memory foam.
The Vertagear Series comes with standard memory foam neck and lumbar support to give you the extra padding you need for any position. Both cushions are easily removable for increased adjustability and correct posture.
FOR EVEN MORE GREAT CHRISTMAS GIFT IDEAS THIS HOLIDAY, BE SURE TO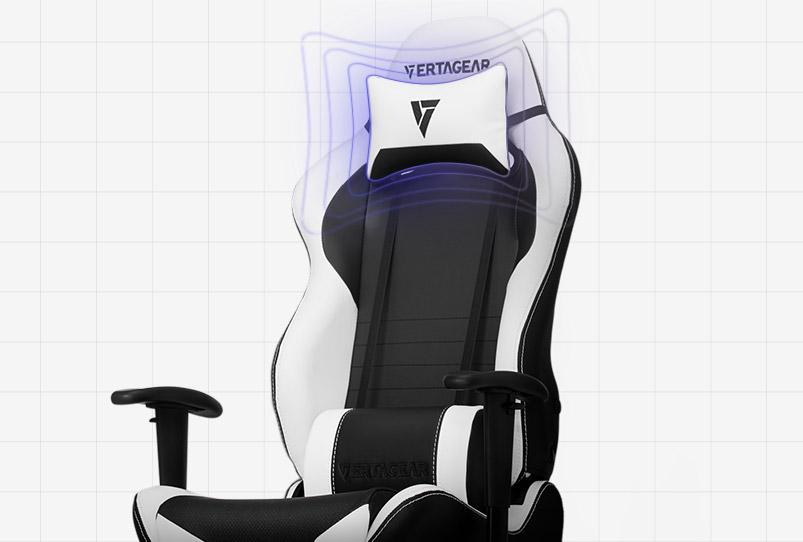 The integrated steel skeleton that forms the shape of the gaming chair ensures long-term durability. The steel frame includes a 10-year warranty, keeping you secure and stable throughout any intense gameplay. As one of the critical support structure of the chair, the five star base is fabricated with aluminum alloy to provide stability, lightweight construction, and lasting durability, providing the necessary strength to ensure longevity.
Adjustability extends to the armrests with 4-directional adjustments. The ergonomically designed armrests keep your forearms comfortable and steady regardless of body shape and habit to prevent sore shoulders. Features an independently adjustable backrest, allowing you to adjust the angle of your sitting position throughout your gaming sessions (up to 140 degrees). The chair's tilt tension is easily adaptable to your body weight, allowing you to lean back with ease and comfort. The tilt mechanism is also engineered to be lockable in 4 different tilt positions.
Unleash new levels of your gaming experience with the RGB LED kit for your Vertagear gaming chair. Designed to be a seamless experience, the RGB LED kit is the world's first wirelessly operated RGB gaming chair. The smart interactive effects yield unlimited possibilities to reflect your mood on live streams or immerse yourself in intense gaming adventures. Showcase your creativity with fully customizable illumination and vivid animation effects to bring your battlestation to life.
❄❄❄ MORE FROM THIS YEAR'S SHOPPING GUIDE! ❄❄❄
Click here for the best 2021 has to offer in gaming, gear, toys and tech...