Glow like a star with the Superstar Bundle
Create your own completely unique layouts with modular panels. Big, small, or HUGE; linear, geometric, or totally abstract—the choice is yours! Use Hexagons, Triangles, or Mini Triangles on their own, or mix and match the different shapes with Connect+ technology for endless design combinations Transform your favorite songs into a music festival light show in your own home. Depicted above is the Superstar bundle, featuring 47 individual panels and more (see tech specs below for additional details).
Try the Pop Rocks Rhythm Scene and watch your lights dance to the beat Sync Your Lights with Screen Mirror. Sync your lights to the colors from your gameplay for an immersive experience unlike anything you've seen before. Attach your panels to a smooth surface with the included double-sided Mounting Tape. Nanoleaf Shapes features an ultra-thin panel design come with everything you need to create your own statement or accent lighting. Mix and match shapes to create next-level designs. Packed with all the smart features, such as Rhythm Music Visualizer, Screen Mirror, Touch, Schedules, and more!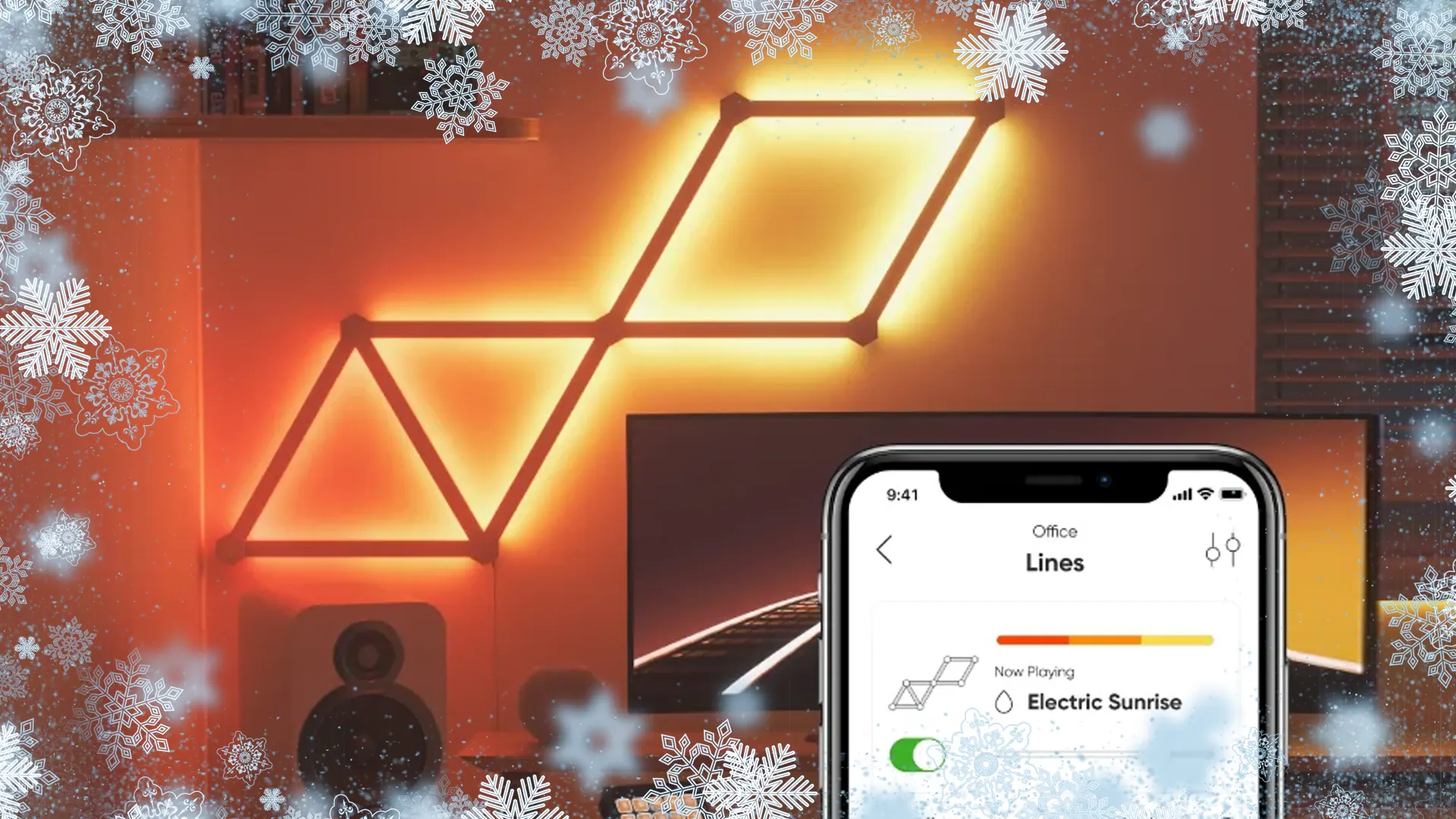 Also available is the Lines Smarter Kit. Experience stunning RGB illumination in a never-before-seen modular form factor. Smart backlit LED light bars come with everything you need to create intricate geometric designs on your wall. Choose from 16M+ colors and dynamic lighting animations that flow across your entire layout. Install by your desk setup, living room, bedroom, or any space where you want to achieve an ultramodern neon look.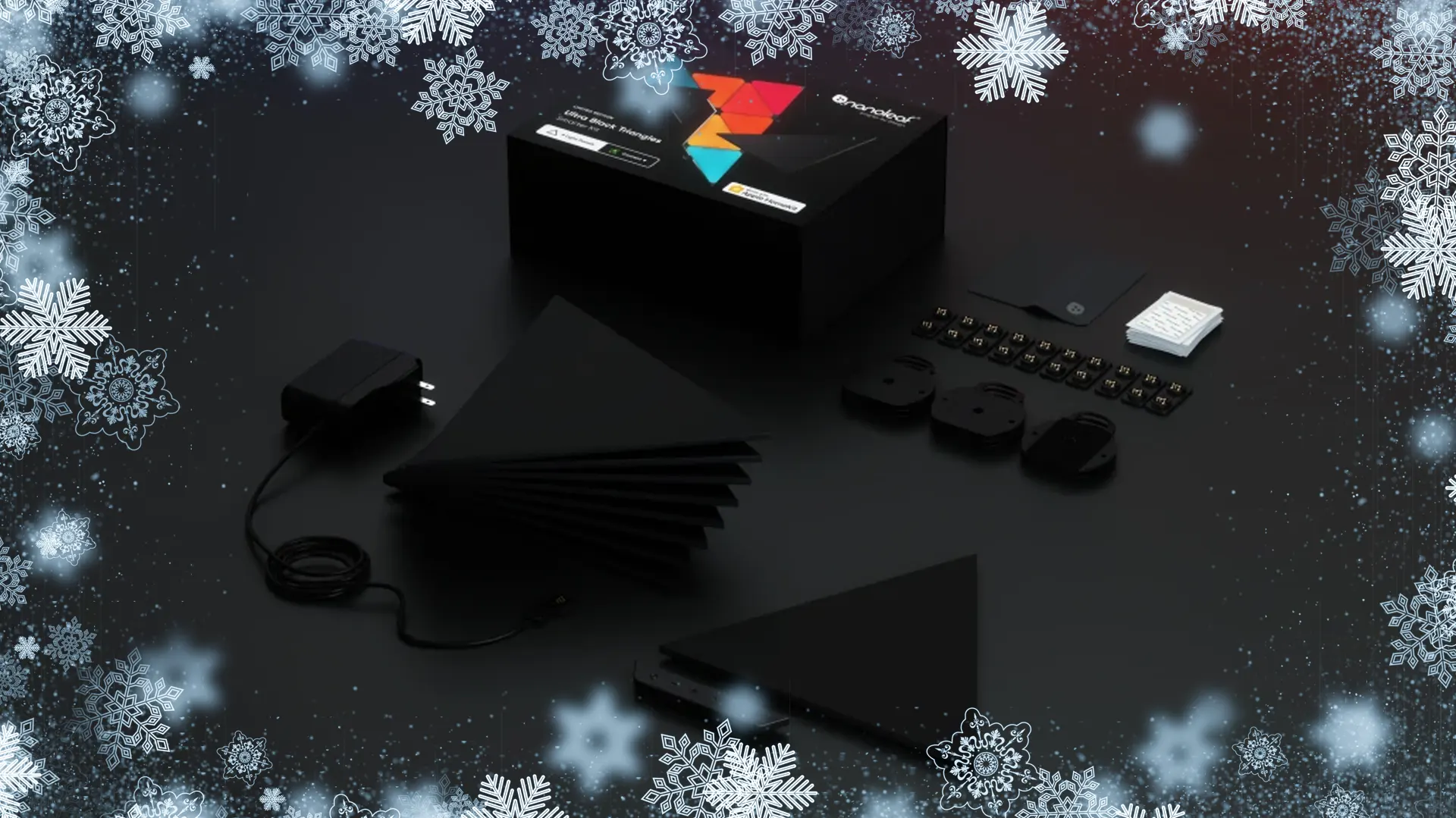 Finally, we bring you the
limited edition Ultra Black Triangles...their darkest creation yet!
This new release of Shapes Ultra Black Triangles are EVEN DARKER than before, for a true black-out look! Triangular light panels with a 360º black finish come with everything you need—including black mounting and power accessories, just as the other bundles!
FOR EVEN MORE GREAT TECH YOU CAN GIFT THIS HOLIDAY,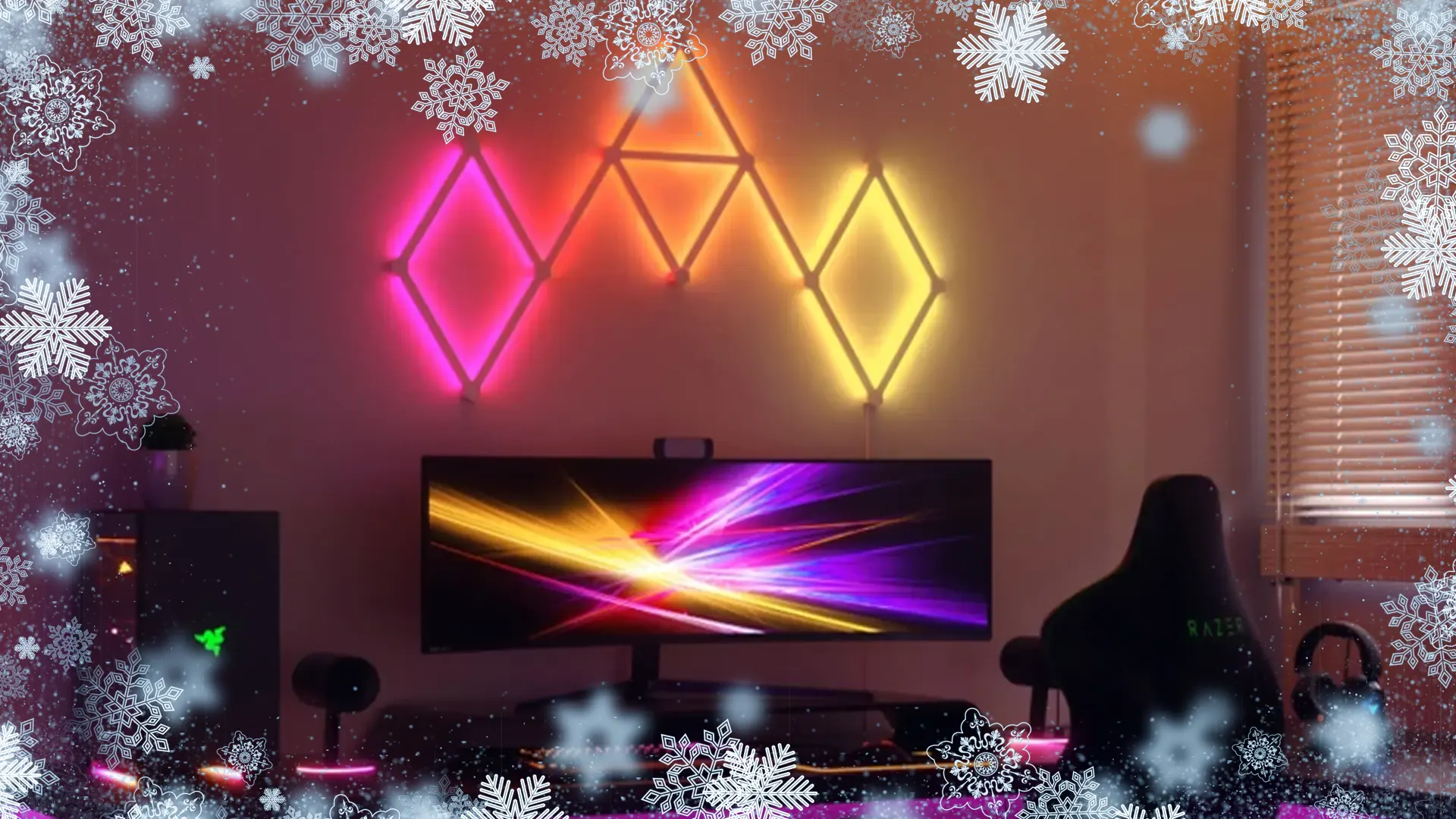 Tech Specs:
Arrange panels into your own custom layout
Combine Shapes with Connect+
Over 16 million colors
Responds dynamically to touch and sound
Backlit modular lighting
Reacts to music in real time
Over 16 million colors
Dynamic lighting effects with 2 color zones per line
7x Shapes Triangle Light Panels
20x Shapes Mini Triangle Light Panels
18x Light Lines
1x 2 Meter Lightstrip
1x A19 | E26 Smart Light Bulb
Bundle comes with all supplies needed to work right out of the box
About Nanoleaf:
Nanoleaf is a pioneer in modern smart home, paving the way by continuously working to redefine the space. We achieve this by following one simple rule: if something already exists on the market, we won't do it—unless we can do it better. By "rethinking what's possible" and pursuing constant innovation with our technology and designs, at Nanoleaf we are able to create products unlike anything ever seen before and explore the potential of what smart home can truly be.
Nanoleaf is a technology and IoT company changing the world with the most innovative smart home solutions that transform ordinary experiences into extraordinary ones. By infusing thoughtful design and technological intelligence in their products, Nanoleaf is ushering in a new era of the smart home that centers around complete personalization. Every product created by Nanoleaf embodies our philosophy of 'Smarter by Design. Nanoleaf was founded in 2012 by three engineers wanting to shake up the lighting industry. The company now has a global presence with offices in Toronto, Shenzhen, Paris, Hong Kong and Philippines. Made up of a diverse team of passionate out-of-the-box thinking problem-solvers, Nanoleaf strives to transform and reshape the way we experience our world.

❄❄❄ MORE FROM THIS YEAR'S SHOPPING GUIDE! ❄❄❄
Click here for the best 2022 has to offer in gaming, gear, toys and tech...