Smart Home EV Charger
The Emporia EV Charging Station is a Level 2 electric vehicle charger that charges any EV up to 40 amps with 22" NEMA 14-50P or up to 48 amps with hardwired installation. It comes with a 24' cable with an SAE J1772 connector so it works with all electric cars. Its watertight NEMA Type 4 enclosure is made to withstand the elements outdoors.
Emporia has developed the next generation of the Vue Energy Monitor. Committed to bringing the best value at the lowest price possible, the Vue provides everything you need to monitor your entire home's energy usage in real time, as well as 16 extra sensors to allow you to monitor individual circuits. Not only can you see how much energy your home is using at any moment and over time, but you can also monitor how your individual appliances affect your energy bills.
The Emporia Smart Plug allows you to monitor the energy use and control most home appliances from anywhere with the Emporia App. Control fans, lamps, humidifiers, and other electronics with a 10A Maximum Continuous Load (15A Max Peak Load for up to 1hr/Day), conveniently from your smartphone or by voice with Amazon Alexa and Google Home Assistant. Simply plug your device into the Emporia Smart Plug and connect to the Emporia App. Then you can eliminate wasteful stand-by power, save on electricity, and extend product life.
FOR EVEN MORE GREAT TECH YOU CAN GIFT THIS HOLIDAY,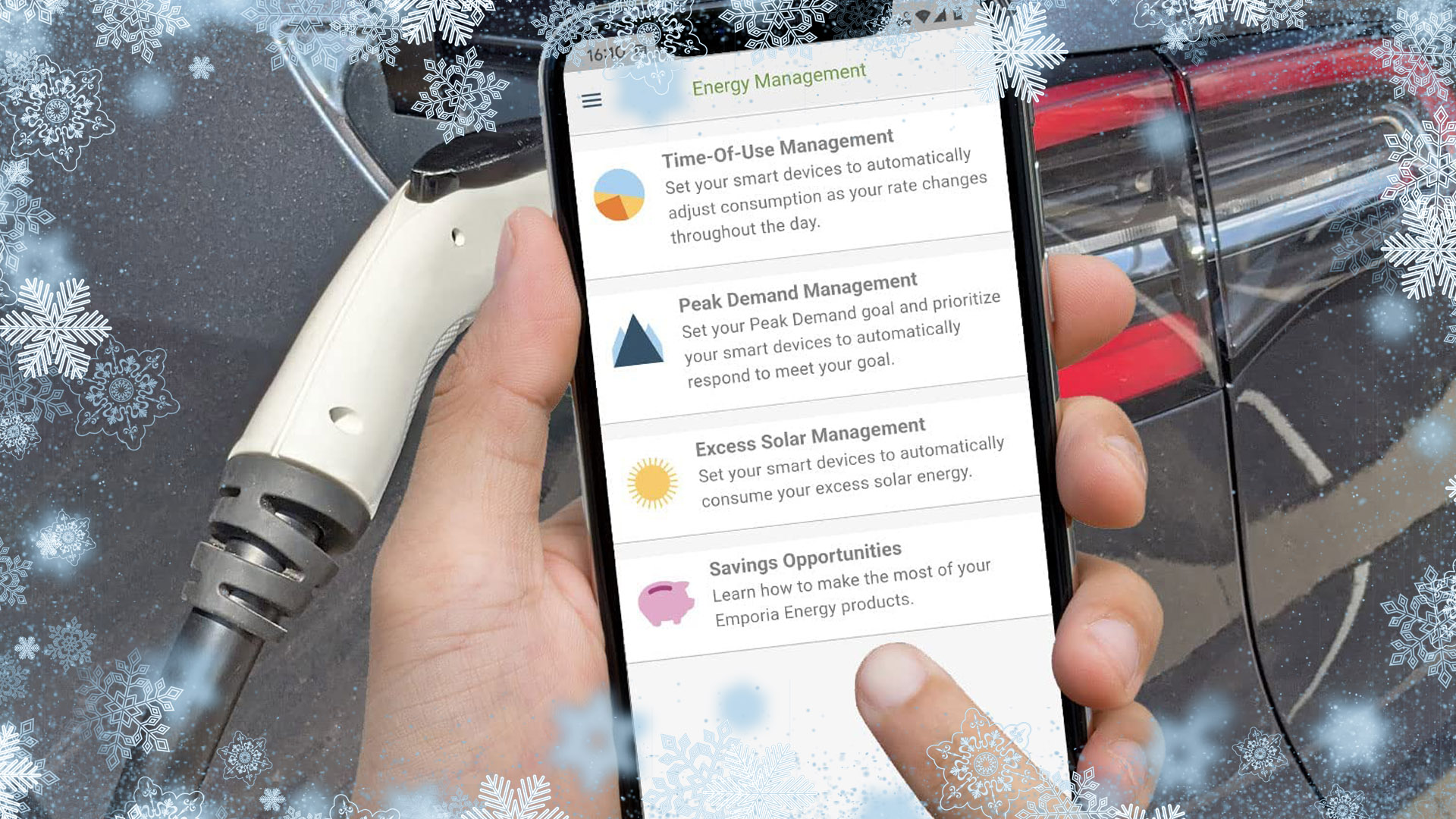 Tech Specs:
UL CERTIFIED Level 2, 48A, 240V electric vehicle (EV) charging station has flexible amperage settings from 6 to 48 amps. DEFAULT CHARGE RATE IS 40A. WiFi Internet connection is required to choose the right charge rate for your car in the Emporia App. COMPATIBLE WITH ANY EV. Charges any EV up to 9X faster than Level 1 wall outlet charger. The charger comes with a SAE J1772 connector (adapter required for Tesla EVs) and a 24' cable with integrated cable management.

CHARGER INSTALLS INDOORS OR OUTDOORS. Your charger will be safe from the elements with a rugged watertight NEMA Type 4 enclosure. Check with your state and local company to see if there are incentives and rebates in your area. CHARGER IS PROTECTED BY A 3-YEAR WARRANTY. HARDWIRED OR PLUGGED INSTALLATION (up to 48A hardwired or up to 40A NEMA Type 14-50P with 22" cable compliant with 2017 NEC Section 625.17(A)(3)). Requires a dual-pole, dedicated breaker at 60A+ for a 48A charge or 50A+ for a 40A charge. A professional electrician is recommended for hardwiring or installing a NEMA Plug.

UL CERTIFIED ENERGY MONITOR INSTALLS IN CIRCUIT PANEL of most homes with clamp-on sensors. Supports single-phase up to 240VAC line-neutral; single, split-phase 120/240VAC; and three-phase up to 415Y/240VAC (no Delta). Panels with access only to busbars will need flexible sensors available from Emporia Energy. Includes DIY instructions, though a professional electrician is recommended.

24/7 ENERGY MONITORING: Monitor your home's real power anywhere, anytime to prevent costly repairs, conserve energy, and save costs. Monitor solar / net metering. Light commercial 3 phase option available as a separate bundle. ENERGY MONITOR IS PROTECTED BY A 1-YEAR WARRANTY. Comes with sixteen (16) 50A sensors to accurately monitor your air conditioner, furnace, water heater, washer, dryer, range, etc. Gauge real-time spending and get actionable notifications to understand where you can save costs.

AUTOMATE YOUR CHARGING TO SAVE ON YOUR ENERGY BILL: Paring the Emporia EV Charger and the Emporia Vue Energy Monitor unlocks features to automatically charge your EV with only excess solar power, curb charging during peak demand, or charge based on your utility's Time-of-Use off-peak hours. Monitor energy use, control charging sessions, and schedule charges based on your lifestyle with iPhone / Android / Web Browser app. Requires 2.4 Ghz WiFi with an internet connection.
About Emporia:
Emporia was launched in 2018 in Littleton, Colorado, by a team of developers, designers, engineers, energy geeks, and customer support staff with a vision of starting a truly different kind of company. A company that believes in putting others first – starting with our customers. A company that believes that capitalism, when done right, can have a huge positive impact on society. A company that believes it can truly make the world a better place.
At Emporia, we're passionate about energy and technology. We strive to understand the impact of our energy use, where it comes from, and what it costs; and we want to help you understand it too.
Our goal is to save our customers money by making their homes more energy efficient through our Smart Home Energy Management technology. We aim to create this technology at the lowest cost and the highest quality we can to ensure it's affordable to as many people as possible. By reducing our customers' energy use and saving them money, Emporia is helping people create a healthier planet and build a brighter future for us all.

❄❄❄ MORE FROM THIS YEAR'S SHOPPING GUIDE! ❄❄❄
Click here for the best 2022 has to offer in gaming, gear, toys and tech...