A versatile, compact solution to organize your workspace
Connect all your peripherals with a single USB-C cable and create an organized workspace. This USB-C laptop docking station is compatible with laptops that have USB-C or Thunderbolt 3 ports. Complete flexibility with the built-in 0.8-meter (2.6 foot) cable. Simultaneous dual HDMI monitor displays up to 4K@60Hz; Four USB-A 3.2 Gen 2 ports on the back; one USB-A 3.2 Gen 2 and one USB-C 3.2 Gen 2 port on the front, One RJ-45 Gigabit Ethernet Port, Integrated security K-Slot (lock cable not included).
Supports extended displays for both displays on Windows 10 or 11, extended display on one monitor and mirroring on the other for Mac OS. For dual monitor display, the USB-C port must have Alt Mode. Most USB-C ports that have Alt Mode are 3.2 with 10Gps.
When connected to your laptop with the USB-C cable the CA Essential Laptop Docking Station charges your laptop via 90-Watt power delivery. The included 130-Watt dual voltage power adapter provides enough power for the docking station and power for your laptop. CA Essential Laptop Docking Station, 130-Watt Dual Voltage (120/230V) AC Power Adapter, User Guide; Dimensions – 6.3 inch length, 3.3 inch width, 0.9 inch in height; Dock Weight – 7.5 ounces.
FOR EVEN MORE GREAT TECH YOU CAN GIFT THIS HOLIDAY,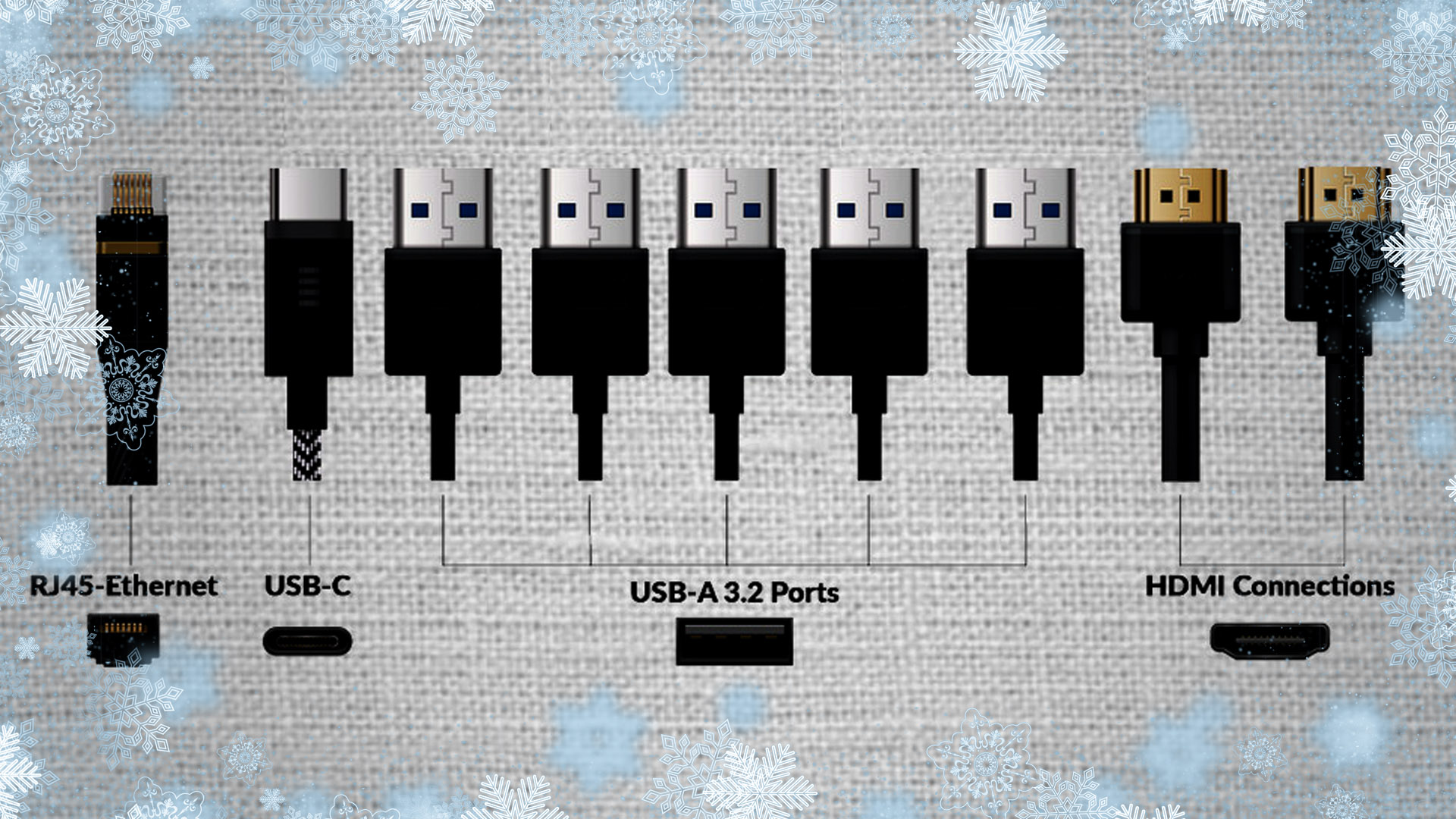 Tech Specs:
Laptop Connection: USB Type C
Max Video Resolution: (x2) HDMI Both ports at 4k@60Hz
USB Ports: (x5) USB 3.2 Type A (x1) USB 3.2 Type C
Ethernet: RJ45 10/100/1000 GbE
Power Delivery: Up to 130W (power adapter included)
K-Lock: Yes (Cable not included)
Dimensions: 6.3 x 3.3 x 0.9 inches
Compatible OS: Windows 10 64-bit, Windows 11
About Cyber Acoustics:
Headquartered in Vancouver, WA, Cyber Acoustics was founded in 1996 by audio enthusiasts with a passion for building affordable products with incredible sound. Since those early days we have continued to innovate in speakers and headphones and have been a mainstay in K-12 schools for more than a decade. Today, as the world of learning and work continues to evolve, we remain a leading EdTech provider, and have also expanded our product line to include office essentials like laptop docking stations, speakerphones, and Zoom-certified webcams, all with the belief that quality doesn't have to mean expensive.
While our product lines have evolved, our core values remain the same - provide high-quality, reliable products with a focus on customer service. We are also committed to doing our part to protect the planet via sustainability initiatives that include space-conscious packaging made from 100% recyclable material, with no single-use plastics, and our industry-leading electronics recycling program. For more details on our commitment to sustainability and what products we accept, click here.

❄❄❄ MORE FROM THIS YEAR'S SHOPPING GUIDE! ❄❄❄
Click here for the best 2022 has to offer in gaming, gear, toys and tech...