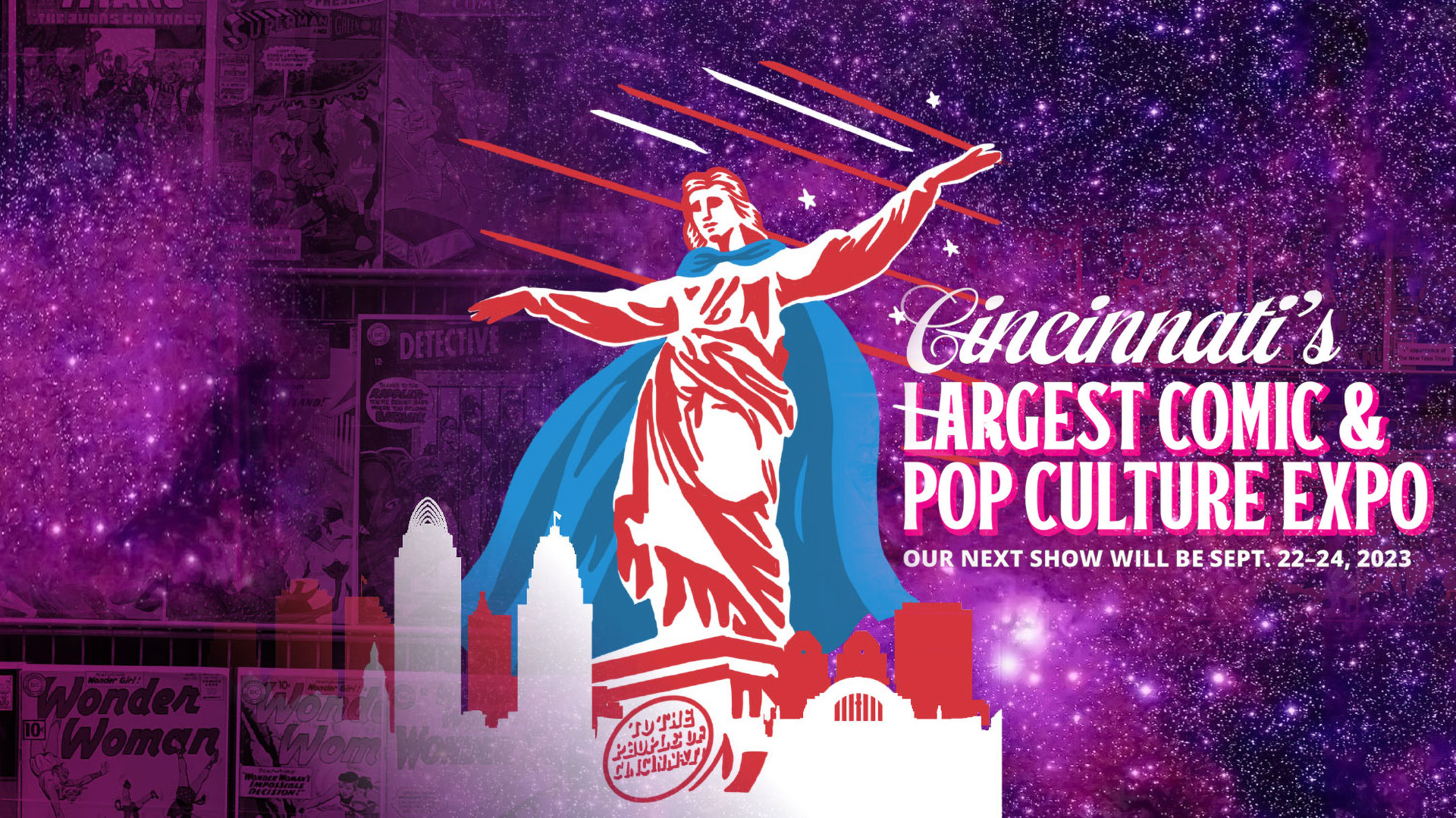 Cosplay, comics and celebs collide at this year's event!
It's that time of year again, Cincinnati Comic Expo is upon us! For those of you who may be unaware, Cincinnati Comic Expo is the premier comic book fan experience in Cincinnati Ohio. It is taking place from September 22nd through the 24th at the Duke Energy Convention Center. Given the name you may think that this elaborate event is only designed for comic book fans, but that isn't the case at all. Sure, fans of comic books will have their heart's content with the celebrities and classes offered here. But so will anyone who is a fan of pop culture in general.
Are you a fan of tabletop gaming? If so, you will want to arrive right when the event begins to enjoy the Tabletop Gaming Room which will be open from 3:00 pm to 8:00 pm. This room has more games than any group would be able to get through in a weekend, a massive collection of over thirty games for fans to partake in. The Tabletop Game Room Will also be open from 10:00 am to 7:00 pm Saturdays, as well as 10:00 am 4:00 pm on Sunday.
Comic books to me are fairy tales for grown-ups. - Stan Lee
If you prefer something with a little more visual appeal Cincinnati Comic Expo also offers an Open Video Game Play area for fans to enjoy. This room will be packed with almost 20 different competitive video games for you to battle it out with friends, or better yet your fellow Comic Expo attendees in one of the many game competitions. The Open Video Game Play Room will be open from 3:00pm through 8:00pm Friday. The room will also be open from 10:00am to 7:00pm Saturdays, as well as 10:00 am 5:00 pm on Sunday.
These types of conventions aren't just for buying cool loot and playing games though. What makes Cincinnati Comic Expo stand out as one of the best events in the region is the classes and talks that this event offers. Not to mention the absolutely STACKED list of celebs coming to town this year!
First, we have Tori Artman and her husband Jason presenting their five-step approach to combining a love of quilting with their passion for pop culture and how that turned into a successful business. We also have one for all the little ones out there. JJ Hammond will be taking some time to talk to kids about all things nerdy while teaching them how to create a monster.
If you want to learn more about the craft of making comic books itself, go check out the Writing for Comics panel from 5:00 pm to 6:00 pm on Friday. This panel will have Trevor Mueller, Paul Storrie, Enrique Lopez, and Dan Dougherty giving their takes on writing comic books and how it differs from other types of media.
There is also the Creating Comics 101 with Nate Jeffers. This panel with provide fans with his unique insight into how to create their first comic book. Nate Jeffers is the creator of the comic novel series D.S.R. Deep Space Rescue and knows a thing or two about making a comic come to life. If cosplay is more your thing, then Cincinnati Comic Expo has you covered as well. Not only do they have one of the best cosplay artists and competitions around, but they also have some classes for people just getting into the craft.
Foamsmithing 101: the basics of building with EVA foam will give audience members the knowledge they need to turn basic foam into realistic cosplay additions. What Does What? Will give a basic understanding of the various materials used in cosplay creation and how to best apply them. One of the biggest draws to these conventions has always been the guests who show up for the fans. Cincinnati Comic Expo has this in spades. They have split the guests into two camps. We have a whopping 41 comic creators as well as 28 celebrities scheduled to appear at this event.
Ticket Info:
Tickets for this event are on sale now via growtix.com. Tickets range from the weekend VIP package for $109.00 to the weekend adult package at $60.00. Individual day tickets can be purchased for $30.00 for Friday and Sunday and $35.00 for Saturday.
FOX19 Interview with Matt Bredestege: