Looking back at the 10 best updates in GTA V history
As Grand Theft Auto approaches its 10th anniversary, Rockstar Games is revving up to celebrate this iconic game and show appreciation to its dedicated player base. Ten years is an insanely long time for a game to remain relevant within the current gaming world. But Rockstar has proven that through constant updates and listening to fans, their games can last a generation.
How can a game based around robbing banks and murdering people stay popular for so long? As with most things, it comes down to one major factor, the players' ability to role play. And GTA 5 delivers just that. Gamers can live out their wildest dreams within the world of the game. Everything from cars, weapons, and even new cosmetics are constantly being added to the game for fans to interact with.
Don't You Ever Not Tell Me Things I Wanna Know! - Trevor, GTA V
All these updates have worked out very well for both Rockstar and the gaming community. With GTA 5 selling over 185 million copies since 2013. For new players, this may sound a little overwhelming. So, let's go ahead and break down the ten biggest updates that Rockstar has made within the game.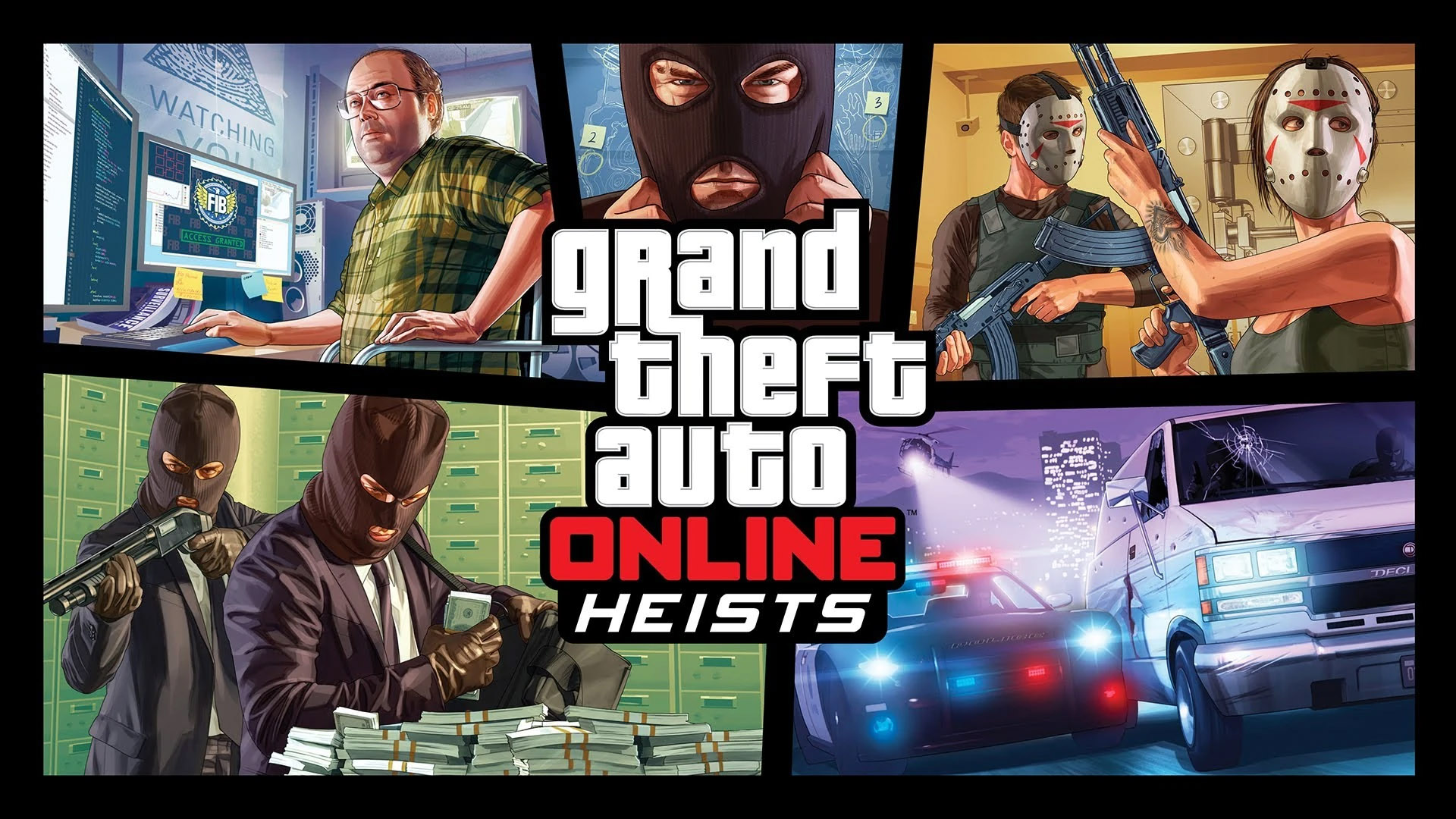 Heists
The Heists update has been one of the most instrumental reasons for the game's longevity. It provided players with an entirely new level of gameplay, requiring careful planning, coordination, and teamwork to successfully pull off high-stakes robberies. Allowing players to take on these feats with their friends added a new level of chaos to an already whacky game world.
The update introduced five unique heists, each with its own intricate storyline and set of missions. These heists included "The Fleeca Job," "The Prison Break," "The Humane Labs Raid," "Series A Funding," and the grand finale, "The Pacific Standard Job." Each of these heists can take a group of players thirty minutes to an hour.
Not only did these heists reward the player with in game loot and resources, but they also added to the deep mythos of the game. Rockstar has done an amazing job of creating depth in their stories, and the heist update only made fans want to know more about the world they are playing in.

Cunning Stunts
One of the most unexpectedly successful updates to the game is the Cunning Stunts update. Performing vehicle stunts in GTA has always been a part of the game but not necessarily a major part of the gameplay. Outside of a few aspects of the game, stunts were performed mainly for YouTube videos and competitions between friends.
Cunning Stunts changed all of this by releasing 16 stunt races for gamers to attempt. And these aren't your standard racing tracks, oh no, these are Grand Theft Auto racing tracks. Meaning they involve all kinds of whacky mechanics like loops, jumps, twists, and even somewhat gravity breaking mechanics.

Further Adventures in Finance and Felony
This update has been on the wish list of every GTA player since the original. Further Adventures in Finance and Felony allows players to become CEO of their very own criminal empire. Players are tasked with smuggling contraband, managing warehouses, and conducting high-risk heists.
Not only that, but they must also store their contraband while trying to expand their connections and overall influence in the realm. All of this while trying not to draw too much attention from the authorities. But don't worry, you don't have to do it all alone. This update allows players to hire associates to outsource some of their labor.

Gunrunning
For players who are all about death and destruction, the Gunrunning update puts players into the underground world of arms dealing and weapons manufacturing. Settled in their underground bunker, the player must source materials to be used for the advancement of new types of weapons.
But not everyone will be happy about your new successful enterprise, players will have to defend themselves against rival arms dealers and authorities. Not to worry, players can upgrade their bunkers with security measures such as turrets, security personnel, and advanced surveillance systems. As well as being able to get their hands on heavy tactical vehicles to thwart their competition.

Doomsday Heist
Whereas the original heists added to the game could take anywhere from a half hour to an hour, Doomsday heists takes a whopping twelve hours to complete. Which it should since the player is not only gaining as much wealth as possible but also attempting to save the world. That's right, it's time for a global conspiracy in Los Santos.
The Doomsday Heist is one of the most ambitious add-ons for GTA 5, with the update being broken down into three separate acts. Players will need to acquire a facility, resources, and plan carefully before attempting to stop this global conspiracy.

Business
If you like GTA but wish it had more of a factory sim vibe, then the Business update is what you are looking for. As usual, this update comes packed with new weapons, vehicles, and cosmetics but most importantly it allows you to buy and customize properties.
This update allows players to purchase high end fashion and take a break from some of the more violent aspects of the game if they choose. Maybe you just want to own a few high rises in the city and extort the residents for as much cash as you can squeeze out of them. You're still playing the bad guy, just in a different way.

Bikers
Have you ever wanted to be the leader of a biker gang? The Biker update expands even further upon the underground criminal activity in Los Santos by allowing players to form and manage a biker gang.
This update gives players the opportunity to not only become a biker but to create a motorcycle club complete with its own clubhouse to engage in illicit affairs. These new tasks range from drug trafficking to weapons smuggling. The update also gives players access to their very own meth lab simulator.

Import/Export
This update is all about the in-game vehicles. More specifically, about the best ways to illegally obtain new vehicles. This update allows players to source and steal vehicles from all of Los Santos and store them in their very own cargo business.
Not only that but it also includes a new custom body shop for players to customize their ill-gotten goods. And of course, Import/Export also added numerous new vehicles for players to get their hands on.

After Hours
The days in Los Santos are packed to the brim with illicit activities and business ventures but what do players do once the sun sets? The After Hours update gives players the chance to dominate the nightlife scene as well.
This update adds nightclubs for players to purchase and manage. As well as allowing them to hire various staff and performers to get butts in seats.

The Diamond Casino & Resort
Last, but certainly not least, is The Diamond Casino & Resort update. This update places a casino in Los Santos for players to interact with. Players can spend their days gambling on the machines, interacting with the staff, or spinning the lucky wheel once per day.
Players can even purchase their own penthouse within the casino, making sure that they are never too far from where the action is. And of course, the update is packed with all of the cosmetic goodies that fans have come to expect from Rockstar.

How to Celebrate GTA V's 10-Year Anniversary with Rockstar!
To celebrate the 10th anniversary of Grand Theft Auto V, GTA Online is offering players a range of bonuses and rewards. One of the main rewards is a trio of outfits inspired by the game's main characters, Michael, Trevor, and Franklin. Players can also earn GTAV-themed weapon finishes and bonuses on classic modes. In addition to these rewards, players can earn 4X GTA$ and RP on the latest Community Series playlist, which features a selection of player-created jobs from the inaugural year of the series. This is a great way for players to earn extra rewards while experiencing some of the best content created by the community.
There is also a range of discounts available on various vehicles, guns, and properties. Players can get 50% off all Agency Properties, Upgrades & Modifications, Imani Tech Upgrades, and Record A Studios merchandise, as well as 40% off all garages. They are also showcasing several vehicles, including the Obey 9F, Bravado Buffalo STX, Obey 10F, Progen T20, Pegassi Osiris, and Pegassi Zentorno. To make things even more exciting, there are also several other bonuses and rewards available for GTA+ members, including a free Bravado Hotring Hellfire, an exclusive free livery, Double GTA$ and RP on Assault on Cayo Perico, free clothing, and much more.
Overall, the 10th anniversary of Grand Theft Auto V is a great opportunity for players to earn extra rewards and bonuses while celebrating the game's legacy. With a range of special events, rewards, and discounts available, there's never been a better time to jump into GTA Online and start earning some rewards. And don't forget GTA 6 could be announced any day now, so make sure to absorb all of the awesomeness that is Los Santos in the meantime. Looking at his list, it may take you a few years to get through all this amazing content. So, you may want to get started today.