An expansive soundstage for games, music and more!
Turtle Beach isn't just a name in the gaming marketplace, it's THE top of the mountain. So when they asked us to put their new Stealth Pro gaming headset through the ringer, we gladly obliged. What we found was an amazing set of new features, and a headset that improves on what it already does so well, in just about every way. So let's take a look at what we thought of the new multiplatform Stealth Pro!
First things first, we wanted to beat this thing up a little bit. One thing we can say for the new Stealth Pro...is that it takes a lickin' and keeps on tickin'! Just over the general course of the review (and the usual motion of putting the headset on and off your head), we noticed something impressive. This thing seems pretty damn indestructible. It has your normal swivel the comes fairly standard in today's headsets around the ear cups, but the overall flexibility of this thing is insane (due to the steel-reinforced headband). To the point of us having the following thought: "...wonder if we could actually break this thing."
Luckily, cooler heads prevailed, and we didn't try. But when we tell you that you can twist this thing like a pretzel and it won't crack or snap, we mean it! Although, we don't advocate for that kind of human on headset violence typically.
Another nice feature that makes this headset more forward thinking, is the integration of most the audio settings into the Turtle Beach smart app. We have to admit, getting a new headset is always tricky. Because you have to be able to relearn the button layout on the fly, and can really screw you in high-pressure gaming situations (when you find yourself fumbling for a certain dial or button, often times turning the wrong one). It always takes us a while to acclimate to the new layout, until our muscle memory kicks in. With this being integrated with the app, seeing a visual display on the phone was an incredibly intuitive method of transitioning away from old system.
For other great gaming products, including headsets, gear and more, check out Turtle Beach's official site
Now we have to talk about the real important stuff. The nitty gritty that ultimately makes a headset great. All the amazing features and well-built aesthetics don't mean jack if this thing doesn't sound good right? Well, we can tell you unequivocally, it doesn't just sound good...it sounds great! Although, there has been debate regarding why exactly that is.
The drivers are what typically gives a headset its personality, and this one has the kind of premium craftsmanship you would expect out of a high-end offering from a proven company like Turtle Beach. But the perceived improvement in clarity and/or quality may also come from the increased size. According to the tech specs, we're rockin' "...56% more surface area than competitors, creating more robust bass response, and are matched to eliminate subtle differences between left and right speakers."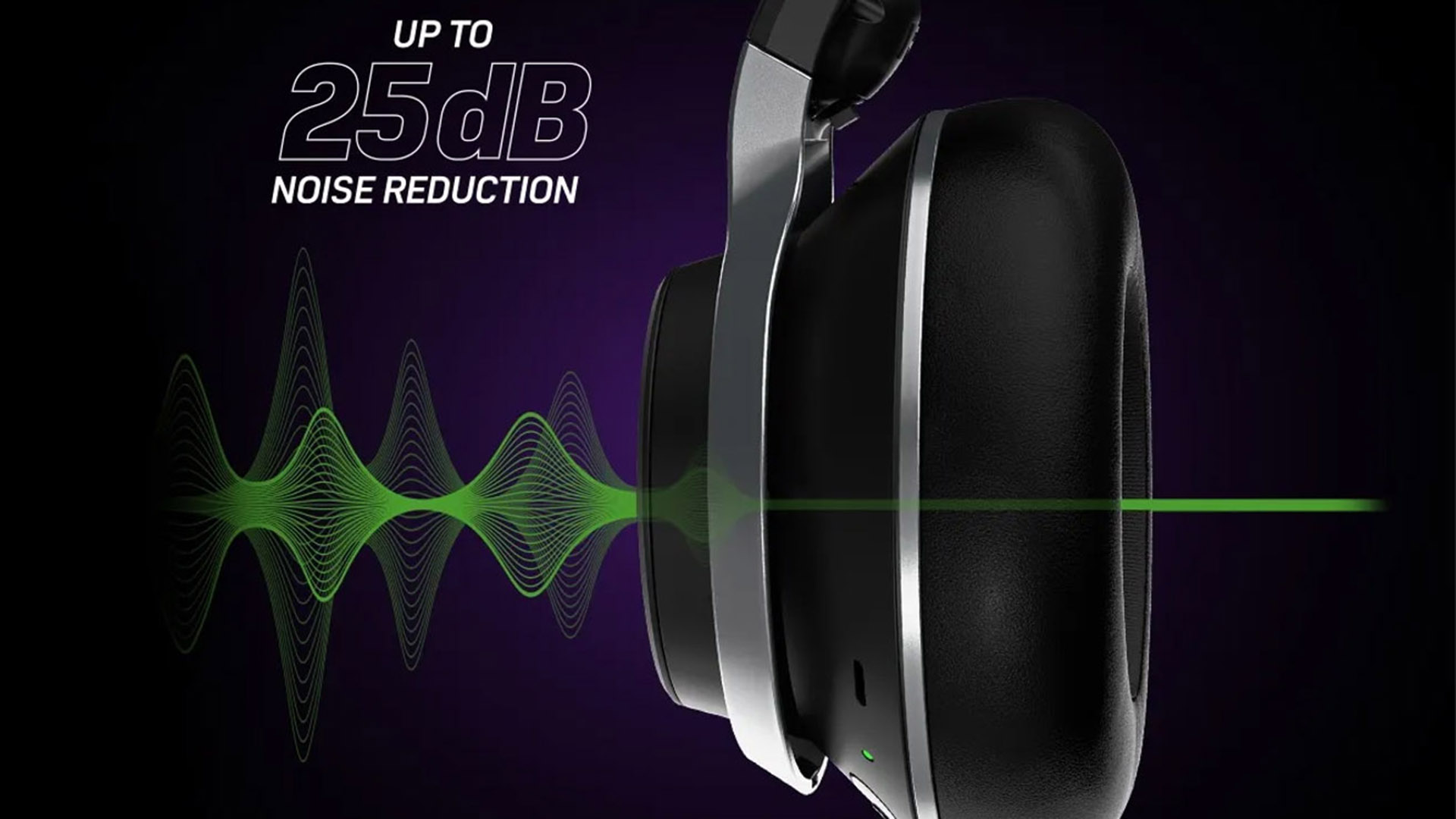 For a one-to-one comparison, we put this headset up against one of our favorite brands for gaming/PC tech known as ROCCAT. Specifically the Elo, which we consider a mid-level headset that does an amazing job and is above average compared to the budget options both ROCCAT and Turtle Beach offers. The Stealth Pro seems to outperform it in every way, including comfort, microphone quality and its noise-canceling abilities (to rid your gaming experience from the pesky in-room noise distractions).
Not only does the Stealth Pro do wonders for things like gaming and music, but it's ability to be an amazing movie-watching headset should not be undersold. We threw some Blu-rays on with various audio mixes, including stereo, 7.1 surround, DTS Dolby and more, all with clean, rich lows that give you the rumble only a real theater could outdo. So if you happen to use your console as a media center (and not just for gaming), this headset can also pull double (or triple) duty.
There is absolutely no doubt that this headset (when it launches on April 23rd, 2023), will come with a premium price to match its premium quality. For some gamers, this might seem a little too extravagant for their exploits. Having said that, if you are in the marketing for something above average (and we mean way above), and you're looking to compliment your gaming lifestyle in a way that will pamper both your ears and your experience, the Stealth Pro is going to be a must-buy for many folks. If you're going to own only one headset (and keep it for several years), look at this as an investment that will be well worth the cost.
Full Stealth Pro Features List:
Multiplatform Compatibility

The Stealth Pro is designed for multiplatform gaming on Xbox Series X|S and Xbox One, PS5 & PS4, Windows PC and Mac, Nintendo Switch, and mobile/tablet devices with Bluetooth.

Exceptional Audio Fidelity

Turtle Beach engineers pushed the boundaries of audio fidelity to create the best sounding headset ever. Powerful, hand-selected 50mm Nanoclear drivers are larger than the competition – 56% more surface area than competitors' 40mm drivers – creating more robust bass response, and are matched to eliminate subtle differences between left and right speakers. The Stealth Pro's optimized audio cavity and active software tuning produce a highly-detailed soundstage for captivating 3D surround sound, including Windows Sonic on Xbox and Sony 3D Audio for PS5.

Unrivaled Active Noise-Cancellation

Experience the most effective, competitively benchmarked noise-cancellation available in a gaming headset. Four internal noise-cancelling microphones reduce noise levels by 25dB, making Stealth Pro adaptable to any situation. Whether gamers are looking to tune out distractions or accentuate ambient sounds for nearly full noise transparency, noise-cancelling adjustments can be made using the Turtle Beach Audio Hub app, or by mapping control noise-cancellation levels to the headset's wheel.

S.M.A.R.T. Noise-Cancelling TruSpeak Boom Microphone

Gone are the days of distracting, disruptive background noise interfering with your gaming session. Turtle Beach engineers designed a microphone specifically tuned to pick up just your voice, reducing up to 97% of background noise – up to 10x more effective than the competition*. Utilizing a cardioid polar pattern plus Turtle Beach's S.M.A.R.T. (Sonic Measurement Audio Reduction Tuning) noise-cancelling technology, the next-generation TruSpeak microphone actively adapts to environmental noise to let just your voice through.
*25dB noise reduction behind mic vs. 2dB competitors as tested by Turtle Beach.

S.M.A.R.T. Concealed Microphones

S.M.A.R.T. noise-cancelling technology also powers two concealed microphones that provide clear, concise chat whether you're on-the-go, or simply prefer no boom mic.

Swappable Dual Battery System

Two swappable 12+ hour battery packs provide continuous power, and a quick 15-minute charge gives three additional hours of battery life.

Sleek, Wireless Transmitter & Battery Charger

The low-profile transmitter station delivers a lag-free 2.4 GHz wireless connection, serves as the charging station for the battery packs and has a built-in USB-A port for charging other devices.

Lag-Free Wireless Connection

Tuned at Turtle Beach's San Diego, CA audio lab, the 2.4GHz lag-free wireless solution provides up to 50' / 15m of wireless range and optimizes gaming audio and chat in real-time for a lag-free gameplay advantage.

Bluetooth 5.1 Dual Connectivity

Simultaneously listen to your own music, Discord, or take calls while gaming on Xbox, PlayStation, PC, Mac, or Nintendo Switch with Bluetooth 5.1 and Turtle Beach's dual-connectivity technology.

App-Based Audio Customization for Mobile & Desktop

Easily adjust EQ settings, set levels for noise-cancellation and more using the Turtle Beach Audio Hub app for iOS & Android, or Turtle Beach Audio Hub V2 for Windows PCs & Mac.
Remappable Wheel & Mode Button
Make Stealth Pro your own with a remappable wheel & mode button that can be assigned to distinct functions based on your gaming style using the Turtle Beach Audio Hub app.
Advanced 10-Band EQ and Microphone Enhancements
Design custom audio EQs specific to the type of game being played and adjust microphone sensitivity, noise gate, mic monitoring levels and more, all directly from the Turtle Beach Audio Hub app.

Superior Comfort

Plush leatherette-wrapped memory foam ear cushions with Turtle Beach's patented ProSpecs glasses-friendly technology provide a snug seal for enhanced noise-isolation and all-day comfort.

Refined Aesthetic

Built for gaming, commuting, traveling and everywhere in between, Stealth Pro has a refined, versatile design, soft touch finishes, and durable steel-reinforced construction.

Advanced Superhuman Hearing

Enjoy the same great battlefield advantage of Turtle Beach's exclusive Superhuman Hearing sound setting, and gamers can now toggle between three different preset levels and adjust the intensity for a wide range of games.

Variable Mic Monitoring

Avoid shouting thanks to Variable Mic Monitoring (or sidetone) which allows you to hear and adjust your voice through the headset while you chat.

Travel-Friendly Design

The included travel pouch makes it easy to take Stealth Pro on-the-go or stow away, and an additional USB-C cable lets you charge the headset directly when away from the transmitter.