Ending the con with a FLAWLESS VICTORY...
The Lexington Comic & Toy Con thundered into the Central Bank Center in downtown Lexington on March 23rd. Bringing with it a host of amazing celebrity guests (from Film, TV and comics), amazing cosplayers, as well as offering up just about any toy or collectible your nerdy heart could desire! That includes everything from action figures, to Legos, giant Rancors and Funko Pops stands as far as the eye can see (which looked like someone made the mistake of feeding them after midnight).
The Sci-Fi team originally traveled to the event to cover the Kevin Smith Q&A panel, as well as take in the various sights and sounds. But due to a flight delay, he was unable to attend the day we visited. So...back to the convention floor we went to explore the vendors once more before we decided to head home. And boy...are we glad we did!
Simply calling this Lexington con a toy fair of sorts is greatly under selling it. They also had several booths there that catered to the high-end collector like us (we know that makes us sound like we should be adjusting our monocles and sipping our highfalutin tea). If you've seen any of our social media posts in the past, you know we're absolute suckers for a good art statute. These are the ones that are a little more on the premium side, that pass for something you'd see in a museum rather than the electronics section at Target or Walmart. So when we saw both a perfectly paired Scorpion AND Sub-Zero by Iron Studios sitting right next to each other...it stopped us in our tracks
Scorpion & Sub-Zero...the deadliest of enemies. But slaves under my power. - Shang Tsung
I should preface the rest of this article with the fact that we are HUGE Mortal Kombat nuts over here. By far, one of our most beloved franchises is the spine-pulling, blood soaked series that has been one of the only long-running video game properties we've constantly followed since it's launch in arcades back in 1992. So once we saw both of these incredibly epic pieces that perfectly compliment each other, we instantly knew it was inevitable they'd both be sitting on the shelf in our office just a few hours later.
For those who aren't looking to pay a premium from a company like Sideshow (that can cost upwards to $1,000 to start and reach anywhere into the $2,000-$3,000 range), Iron Studios is a great alternative. While they are both on the smaller side, clocking in at about 1/10 scale, what they lack in size they make up for in great detail. The each come with a base that is reflective of their backstory, and are posed in a way that looks like they were ripped directly from one of the games cut-scenes.
Check out this gallery below, for more images. The Scorpion bust pictured was an existing collectible, which we feel looks AMAZING right next to our two new little buddies. Both pieces weigh a little less than two pounds (although with their bases feel very hefty), and are made up of a  resin, polystone and PVC blend.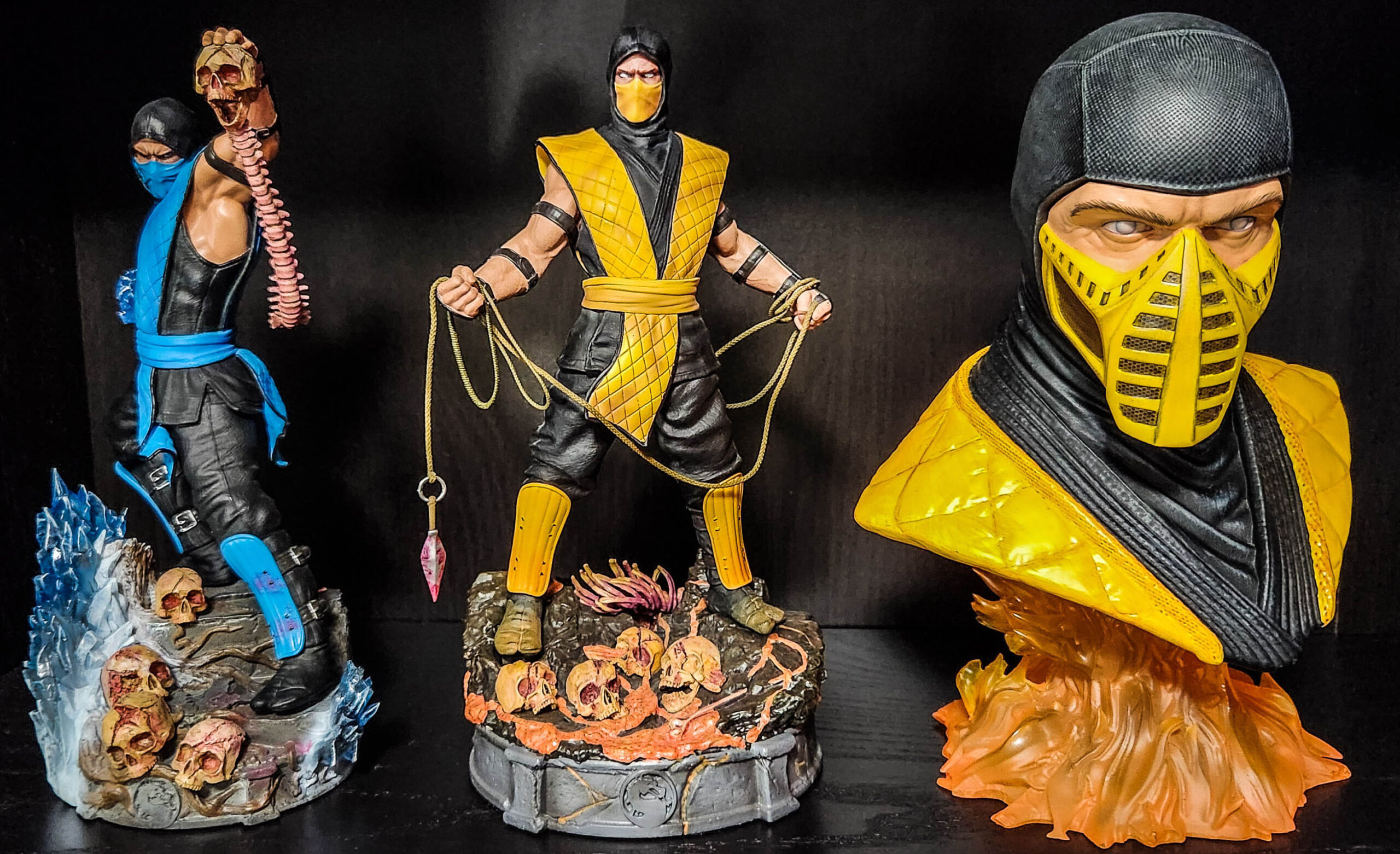 Also, we want to once again thank the Lexington Comic & Toy Con staff for having us out to cover the event. Be sure to bookmark their website and social media pages, to keep up with news on the 2024 event, guest list and ticket availability.