Plex is helping us return to where it all started, streaming the original Sam Raimi Spidey trilogy absolutely free!
While Peter Parker's latest adventure has Tom Holland finding he has no way home (see what we did there?), it's never too late to revisit the roots of what made this movie one of the biggest box office blockbuster releases ever! At the time of this posting, the film is closing in on a billion dollars in theaters, well on its way to dethrone Avatar as the third highest grossing film.
But lets not underestimate the contributions that two other Peter Parkers had on the success of the flick. Those come in the forms of Andrew Garfield and of course, the OG Tobey MaGuire. Now you can check out all the webslinging fun from the first three films, free from the folks at Plex. Simply download the app to your mobile device or smart HDTV, and you're ready to go. Spider-Man 1-3 joins a long list of free streaming content, only available on their platform.
With great power, comes great responsibility…
Spider-Man
2002 · 2 hr 1 min
When bitten by a genetically modified spider, a nerdy, shy, and awkward high school student gains spider-like abilities that he eventually must use to fight evil as a superhero after tragedy befalls his family.
Directed By
Sam Raimi
Written By
David Koepp, Stan Lee, Steve Ditko, Steve Montal
Studio
Marvel Enterprises, Laura Ziskin Productions
Genre
Fantasy, Action, Adventure, Sci-Fi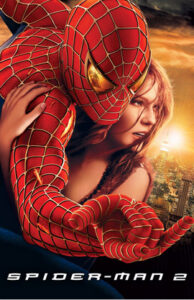 Spider-Man 2
2004 · 2 hr 7 min
Peter Parker is beset with troubles in his failing personal life as he battles a brilliant scientist named Doctor Otto Octavius.
Directed By
Sam Raimi
Written By
Stan Lee, Steve Ditko, Alvin Sargent, Miles Millar, Alfred Gough
Studio
Marvel Enterprises, Laura Ziskin Productions
Genre
Action, Adventure, Fantasy, Sci-Fi
Spider-Man 3
2007 · 2 hr 19 min
The seemingly invincible Spider-Man goes up against an all-new crop of villains—including the shape-shifting Sandman. While Spider-Man's superpowers are altered by an alien organism, his alter ego, Peter Parker, deals with nemesis Eddie Brock and also gets caught up in a love triangle.
Directed By
Sam Raimi
Written By
Sam Raimi, Stan Lee, Steve Ditko, Alvin Sargent, Ivan Raimi
Studio
Laura Ziskin Productions, Marvel Studios
Genre
Fantasy, Action, Adventure, Sci-Fi